OTHER JOB TITLES:
R&D Specialist
Food Scientist – R&D
Senior Director – R&D
R&D Program Manager
SALARY RANGE:
$77,000-$132,000
BENEFITS MAY INCLUDE:
Dental & Medical Plans
Pensions
Life Insurance
Bonuses
Tuition Reimbursement
Employee Assistance Plans
Wellness Plans
Career Growth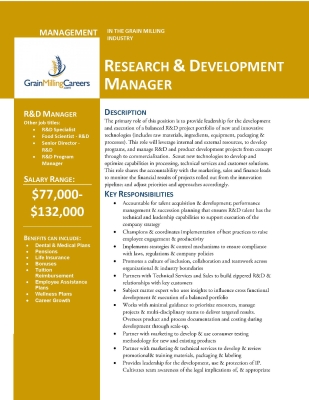 The primary role of this position is to provide leadership for the development and execution of a balanced R&D project portfolio of new and innovative technologies (includes raw materials, ingredients, equipment, packaging & processes). This role will leverage internal and external resources, to develop programs, and manage R&D and product development projects from concept through to commercialization.  Scout new technologies to develop and optimize capabilities in processing, technical services and customer solutions.  This role shares the accountability with the marketing, sales and finance leads to monitor the financial results of projects rolled out from the innovation pipeline; and adjust priorities and approaches accordingly.
Personally demonstrate a commitment to food and human safety
Accountable for talent acquisition & development; performance management & succession planning that ensures R&D talent has the technical and leadership capabilities to support execution of the company strategy
Champions & coordinates implementation of best practices to raise employee engagement & productivity
Implements strategies & control mechanisms to ensure compliance with laws, regulations & company policies
Promotes a culture of inclusion, collaboration and teamwork across organizational & industry boundaries
Partners with Technical Services and Sales to build zippered R&D & relationships with key customers
Subject matter expert who uses insights to influence cross functional development & execution of a balanced portfolio
Works with minimal guidance to prioritize resources, manage projects & multi-disciplinary teams to deliver targeted results. Oversees product and process documentation and costing during development through scale-up.
Partner with marketing to develop & use consumer testing methodology for new and existing products
Partner with marketing & technical services to develop & review promotional& training materials, packaging & labeling
Provides leadership for the development, use & protection of IP. Cultivates team awareness of the legal implications of, & appropriate behaviors associated with documentation & interactions with external parties
Champions & uses project management best practices to ensure on time & on budget commercialization of solutions
Anticipates customer requirements through regular customer interactions & by staying abreast of local/global trends
Builds and maintains active research programs that build upon emerging technical knowledge in multiple disciplines
Represents the company in relevant external organizations (e.g. parents, academia, industry forums etc…)
Supports brand building through participation in relevant external organization & technical publications
Manages a variety of external partnerships (e.g. parents, consultants, companies &/or technical organizations) to help develop & deliver innovative solutions
You like variety and learning new things
You like innovation and product development
You enjoy working with a team
You want career opportunities within a stable, well-established industry
You want to be part of a community within an industry that has been established for hundreds of years
Master's degree in applicable scientific discipline (Food Science, Cereal Science, Chemical Engineering, etc.)
10+ years of Professional Experience; 5+ years of managerial experience
Considered an innovator in the field
Able to effectively communicate, manage & influence technical & non-technical employees
Hold others accountable – able to establish clear objectives & enforce use of metrics to ensure progress is being made
Demonstrated experience participating on customer teams to provide technical leadership during customer meetings
Demonstrated ability to scope, develop, manage and implement technical programs
Demonstrated commercial problem solving/decision-making ability/Executes with appropriate sense of urgency
Demonstrated ability to work with diverse groups
Strong interpersonal skills
Applies structured, disciplined approach to planning, administering & completing projects successfully
Possible degrees and/or training:
Food Science
Chemistry
Biology
Baking Science
Grain Science